The problems trademark attorneys are facing are well-documented, from the surge in trademark applications in 2020 and 2021 that resulted in a backlog of 544,000 unexamined classes at the USPTO to trade in fake goods now representing a $509-billion-dollar industry. Online trademark infringement is a growing problem, with the high volume of occurrence being one of the greatest obstacles in pursuing legal action1,2.
There are many intelligent and thoughtful discussions taking place on how to address these challenges, and we've observed that many of the written pieces conclude with thoughts about how, in conjunction with other efforts, frontier technologies like AI may be able to assist.
We hope that by offering an overview of the existing and emerging solutions in the trademark law and brand protection ecosystem, we can enable IP professionals to assist their clients to the best of their abilities.
1. "Search & Watch" vs. "Brand Protection"
A Historical Divide
Up through the late 2010s, most of the technology for trademark clearance and enforcement had been segmented into two distinct groups of solutions:
Search & Watch
Brand Protection
"Search & Watch" solutions offered trademark clearance search services and the ability to watch or monitor new trademark applications for potential conflicts. These services are incredibly helpful in helping attorneys to secure and maintain the relevant IP rights for their clients, but these solutions don't assist with protecting trademarks in use. As a result, a new category of "Brand Protection" tools began to emerge to fill this gap.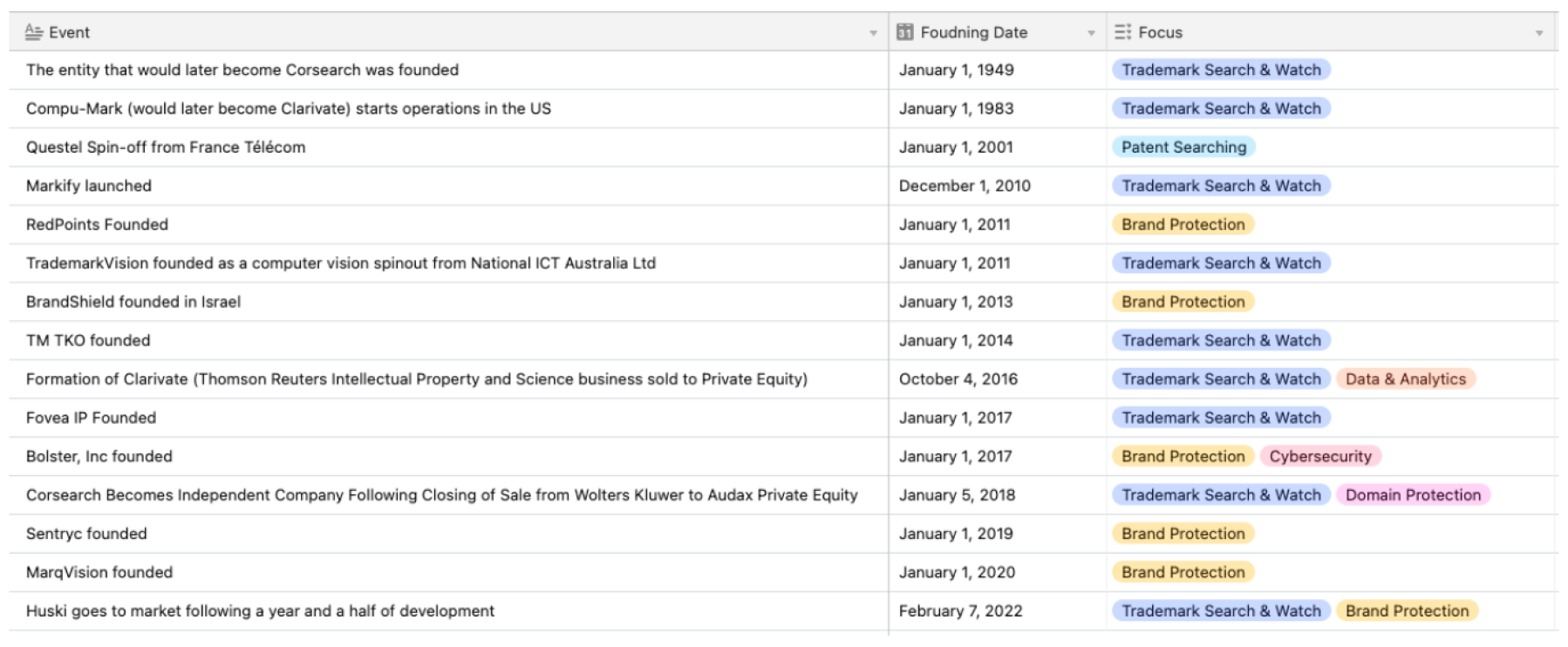 From the start, most companies focused on only one of these two verticals, although that changed quickly in the late 2010s with a series of rapid acquisitions.
Target Markets
Generally speaking, "Search & Watch" solutions have been marketed to all lawyers and law firms, while Brand Protection tools have historically been offered directly to brand owners or their in-house counsel, not to law firms.
While we can only speculate, we believe that there are two possible reasons for this divide. First, it could be a purely commercial decision. There are more brand owners than there are IP lawyers who work in law firms, which could potentially make targeting this market more lucrative. There is also the possibility that this is a function of cost. If pricing is structured on a per trademark model, the costs would very quickly skyrocket for lawyers who manage trademark portfolios of multiple clients, not just single brands.
What we do know for sure is that many law firms – even sophisticated litigation practices – are allocating human resources to manually searching for possible instances of infringement online and recording the evidence with screenshots and saved links when they would much rather employ some forms of automation.
However, as startups have entered the space and acquisitions have accelerated in recent years, the general trends are starting to change as more and more vendors seek to offer more comprehensive solutions to better help their clients.
2. Big players have big appetites: 28 acquisitions and related activities over 5 years
Between 2017 and June 2022, three of the biggest players in the IP ecosystem – Clarivate, Corsearch, and Questel – were involved in 24 acquisitions, 2 partnerships, 1 collaboration, and 1 investment.
These acquisitions speak to the providers' ambitions of becoming comprehensive, end-to-end providers in the IP space, with each company having a slightly different take on what that means; Questel's acquisitions were mostly focused on expanding their patent and portfolio offerings, Clarivate's acquisitions were mostly focused on the data and analytics space, and Corsearch's acquisitions were focused on making gains in the online brand and content protection space.
3. Brand protection throughout the entire trademark lifecycle
Corsearch alone acquired 6 companies and partnered with another 2 in less than 3 years, reflecting a broader industry trend of Search & Watch providers starting to enter the Brand Protection space.
Other vendors have also taken steps to offer more comprehensive services. For example, Markify quietly entered the eCommerce infringement detection space following their acquisition by Questel earlier this year; however, their monitoring services are text-only at this time.
Then in 2022, a new vendor emerged from the Silicon Valley called Huski. Huski was founded by engineers who are image recognition experts who abandoned working on self-driving cars to join an IP litigator in building a new solution for trademark and brand protection. From the start, Huski offered both Search & Watch and Brand Protection services, as well as native image recognition technology.
4. A continued focus on image recognition technology
Image recognition technology is still a challenge for many vendors, especially when entering the eCommerce space. The more distorted an image becomes compared to the original, the harder it is for a computer to recognize it, as is shown below:
In 2013, the first image-based trademark search engine was released by an Australian company called TrademarkVision.
Clarivate took interest, and in 2017, CompuMark released TM go365™ image search, powered by TrademarkVision. TrademarkVision was then officially acquired by Clarivate the next year.
Other companies soon followed suit. It's harder to precisely date when Corsearch first integrated image recognition into their offerings, but their marketing materials and blog posts suggest that it became a focus in 2020, following the acquisition of Pointer Brand Protection at the beginning of the year. Markify then released their own image-based trademark search in May of 2020. Eleven months later, Corsearch released LogoCheck™, a self-service search tool for screening logos. In January 2022, Fovea IP merged with IPSensus for their image recognition capabilities. At this same time, Huski was successfully completing some final quality assurance benchmarks before going to market. By the official launch in February 2022, Huski's self-taught model was able to reliably detect over 1,000,000 pictorial brands (logos, design marks) in real-life images, even in very challenging contexts.
5. Self-service and affordability go hand-in-hand
As technology advances enough for better image recognition technology, there's more opportunity to make trademark clearance and watching more accessible without sacrificing quality. While some providers continue to offer "expert search services," advancements in AI are enabling attorneys to run high-quality searches on their own.
Even the most skeptical and careful attorneys see the value in self-screening before paying hundreds or thousands of dollars for a full search.
In addition to the established providers entering the self-service search space, many of the new players entering the arena are offering their services at substantially reduced rates thanks to technical advancements. For example, the newest provider, Huski offers unlimited text and image searching for as little as \$299 per month. These savings are substantial, considering that a single-class US design search can cost anywhere from \$100 - \$1,000+ with other providers. The promotion of efficient and cost-effective services is an important step forward in improving access to legal services and bettering the IP system for all players.
Disclaimer: This piece is in no way intended to be conclusive, all-encompassing, or the only possible analysis of the industry. It is also not intended to be disparaging of any service providers; we firmly believe that everyone has much to learn from one another about how to make IP better. We seek only to provide a guided introduction to some of the solutions that exist now and the trends that may guide future directions. If you feel as though we have inaccurately represented your company, please contact us and we will happily revise.
About Huski: Huski Inc. is a legal technology startup specializing in solutions that help trademark attorneys as a means of promoting innovation. Its fast-paced team consists of engineers and intellectual property litigation professionals, all of whom strive to increase accessibility to brand protection services for IP lawyers and creators at all stages. Big or small, the brands of an IP firm's clients deserve protection. Huski believes that AI and big data can upscale IP services efficiently and cost-effectively. For more information and access to a free trial, please visit www.huski.ai.