Brand Protection in eCommerce
Discover threats to your clients' trademarks from over
60 million eCommerce listings.
Ongoing Infringement Monitoring In
eCommerce
Because finding instances of trademark infringement is half the battle​.
There are too many listings for it to be practical or scalable to manually search for infringing listings. ​
​
With Huski, you can discover threats to your clients' brands by automatically scanning millions of eCommerce listings for potential infringements. ​
​
​ Huski continuously scans listings hosted on major eCommerce marketplaces like Amazon and AliExpress, as well as millions of listings hosted on independent online stores powered by Shopify.
eCommerce Coverage
Over 60 million listings indexed across millions of online stores.
Huski can monitor your clients' trademarks for infringement from the following eCommerce platforms: ​
As far as we know, Huski is the only brand protection solution that finds instances of brand infringement from listings on independent sites powered by Shopify. ​
The Shopify Problem​
Independent stores with custom domains.
Unlike with Amazon or AliExpress, you can't go to Shopify and do a search for every product listing sold on a Shopify store. ​

Shopify is a provider of eCommerce infrastructure that powers over 3 million independent sites, each with their own unique domain. There is no centralized Shopify marketplace. ​

​Until now, it's been near impossible to find infringing listings "sold on Shopify" without knowing which specific site to search, making it a safe haven for bad players. ​

​Interested in learning more?
Send us an email or set up a call with Huski sales to learn more!
Brand Recognition In Context
Use Huski's advanced image recognition to find instances of trademark infringement in eCommerce.
Huski's AI-powered brand recognition is robust to accommodate real-life trademark usage scenarios. ​

Huski can accurately recognize trademarks even in very challenging scenarios. Variations in color or texture, wrinkles, orientation, partial occlusion, and modification are all considered.​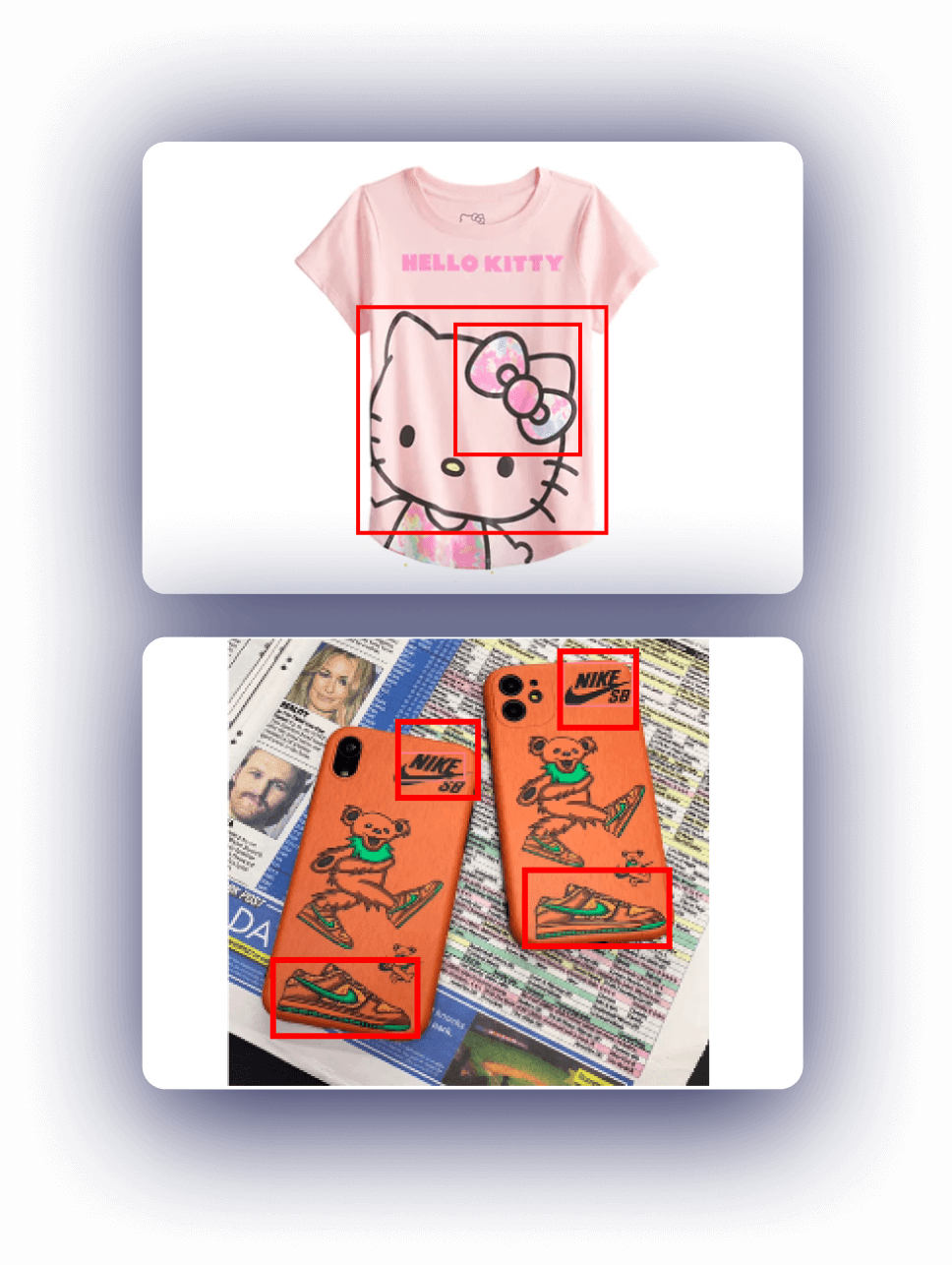 The Importance Of Multi-task Image Searching For Brand Protection In eCommerce
What does the AI perceive: a man in a hat or the Adidas logo?
Listing images aren't always going to be perfect, which is why you need image recognition technology that can accurately recognize your clients' trademarks.​

If you want to make your trademark enforcement efforts easier, you need tools smart enough to accurately identify logos from hats (for example).
Compile Evidence For Litigation
Spend your time drafting your complaints, not formatting your exhibits. ​
With Huski, you'll be able to compile your infringement findings into a neatly formatted report – complete with, photos, timestamps, links to the infringing listing, and more.
Additional Service Available: On-Demand Online Store Scan
If you're aware of a specific store that has infringing listings, you can use AI to scan every listing on that store and compile an easy-to-read report complete with screenshots and links to the listings. ​

The on-demand online store scan has two potential use cases: ​

1) Evidence gathering for litigation ​
2) Proactive risk mitigation for sellers to find infringements and remove listings before they get sued ​

Regardless of the use case, this can save hours of time compared to doing the work manually or hiring someone to do the work manually for you.